Welcome!
Join us for High Holiday services. The prayers are warm, the people are friendly and everyone feels at home.
Whether your background in Jewish prayer and practice is extensive or limited, the services will leave you feeling enriched, connected, uplifted and energized to start your New Year in the most meaningful way.
Services will be led by Shlichat Tzibur Barb Nagel and Rabbi Brian Serle.
Many of the prayers are recited by the congregation in unison, often in English, so that everyone can participate. Hebrew/English prayer books are used throughout the service. The rabbi provides an English running commentary of explanatory and meaningful insights.
Services are all free of charge.
(Thanks to Chabad of Santa Fe for the beautiful introduction)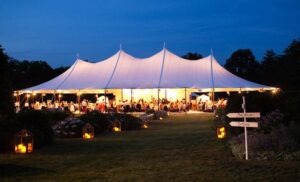 High Holiday services will be held in our "Mishkan", a  LARGE TENT   outside our building at 1820 Main St., La Crosse, Wisconsin. All services will be live in person at CSOA, as well as livestreamed on Facebook Live on our Facebook page.  
ROSH HASHANAH
Monday, September 6, 2021
Erev Rosh Hashanah Services
7:00 pm
Tuesday, September 7
Morning Rosh Hashanah Services
9:30 am
Tashlich at International Peace Garden, followed by Ice Cream at the Pearl
2:00 pm
Evening Services
8:00pm
 Wednesday, September 8
Rosh Hashanah – Second Day
9:30am
Thursday, September 9 – Tzom Gedalia – the Fast of Gedalia
Saturday, September 11- Shabbat Shuvah services
 10:00am

YOM KIPPUR
Wednesday, September 15
Kol Nidrei Services – Introduced by violist Busya Lugovier
7:00pm
Thursday, September 16
Morning Yom Kippur Services and Yizkor
9:30am
Mincha, Ma'ariv and Ne'ilah Services
6:00pm
SUKKOT
 Monday, September 20
Erev Sukkot
6:30pm
Tuesday, September 21
Sukkot Day 1 Services, Lulav Blessing
10:00am
Order your own Lulav and Etrog set!  E-mail Rabbi Brian
Wednesday, September 22
Sukkot Day 2 Services, Lulav Blessing
10:00am
SIMCHAT TORAH
Tuesday, September 28
Morning Services, Yizkor
10:00am
Simchat Torah Celebration
 7:00pm
Wednesday, September 29
Morning Simchat Torah Services and Torah Completion
10:00am