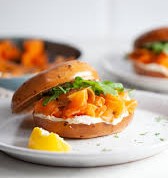 Bagels & Bibles is the name of our monthly interfaith Bible study group.  We have been meeting since July, 2019.  We meet at 12 Noon on a Tuesday each month.
Before the pandemic, we used to meet for lunch in the CSOA social hall, enjoying bagels, cream cheese, lox and coffee.  Since March of this year, we have been meeting on Zoom, from the security of our own homes.  Our conversations have often strayed from the study of ancient truths to current events.  It is a dynamic and fun group that constantly learns from each other.
We are looking forward to the time it will be safe to meet again in person.
Please join us. You will be glad you did!
Here is the zoom link:  Click Here to Join Bagels & Bibles!
Bagels & Bibles Schedule:
Dec. 22
Jan. 19
Feb. 16
Mar. 23
Apr. 20
May 18
June 22