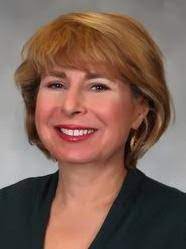 Report on Visit to Fort Mc Coy
Maureen Freedland, County Board Supervisor and CSOA member
         The Commander of the Volk Field Air National Guard Base at Camp Douglas, WI, who oversees the largest of our nation's four Combat Readiness Training Centers, came close to me to get my attention. Tears were visible in her eyes. She told me she had direct family who were Holocaust survivors and she was moved by the few words I had offered minutes earlier. We were at a special briefing at Fort McCoy near La Crosse a few days ago, set up for regional community leaders including elected representatives, school board administrators and the like to provide information about "Operation Allies Welcome" in progress on the base. Frankly, it was also to dispel repulsive falsehoods circulating about the Afghans, up to 12,000 in number, who became guests of the United States government on the Fort McCoy base in the last couple of weeks following the takeover by the Taliban in August.
I handed the Major General who had briefed us a copy of the resolution that I drafted for the La Crosse County Board to consider (details below). I said I was proud to be among many local people in La Crosse eager to help "welcome the stranger" whether we found our responsibility in the Gospels, the Koran or the Torah. I am trying to put myself in the shoes of these Afghans who have suffered trauma, knowing that family members may be taken from their homes or worse, and who likely may be permanently separated from the ones they love the most. I am the daughter of Holocaust survivors. My grandparents were killed in concentration camps. My parents immigrated with poor English skills and had to start their lives over. Fortunately, they came to a supportive American community and that made a difference.
The resolution that I am sponsoring welcomes those Afghans fleeing persecution and terror into our country; it says the county intends to assist where possible; and it salutes the work of non-profit organizations, numerous faith organizations and houses of worship including Congregation Sons of Abraham who are engaged in this endeavor. It is based on similar resolutions circulating in the Coulee Region and around the United States.  Our CSOA member Mackenzie Mindel, recently elected to the City Council of La Crosse, is part of a team bringing a companion resolution to the La Crosse City Council.
You can add your support for this important resolution by commenting to all Supervisors of the La Crosse County Board up to September 16 at this link: CountyBoardSupervisors@lacrossecounty.org or by coming to our Executive Committee meeting to speak in person on September 8 at 7:30 am at the County Administrative Building. If the resolution passes at the Executive Committee, it will be heard by the full County Board on September 16, 2021 at 6:00 pm. Public comment is not taken at that meeting. You can view the resolution below, or contact me.
You can also read my observations about my tour of Fort McCoy on my Facebook page:  https://www.facebook.com/maureen.freedland  The page is public, but I'd love for you to Friend me if we aren't Friends already.
I will remember my tour of Fort McCoy. I was impressed by the expression from base command of duty and deep honor to receive colleagues from Afghanistan who assisted the United States. Officers and military personnel are working hard to be truly inviting to these Afghan guests now in a strange land, as we were too at one time.
Maureen Freedland
Congregation Sons of Abraham
County Board Supervisor, District 4 (which includes CSOA!)
You can read the Resolution HERE