We offer our sincere condolences to Melissa Collum and her family on the loss of her husband, D. Kelly Collum.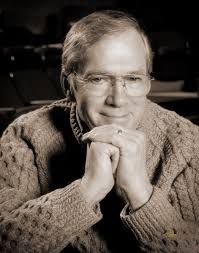 We will hold a Zoom memorial service in Kelly's honor this Sunday, January 24 at 5:00 PM.
Kelly Collum, aged 82, passed away on January 20, 2021, at St. Paul Elder Services, Kaukauna. Born in Fort Benning, Georgia, Kelly grew up in Auburn, Alabama and moved to Green Bay in 1967 to take a position at St. Norbert College. During his 38 years as professor of Communications and Theatre for St Norbert, Kelly directed over 130 productions and touched the lives of thousands of students.
Kelly served in the U.S. Army during the Cuban Missile Crisis and then was stationed at Fort Sam Houston, Tx. He moved to Washington D.C. while working for the FBI, and then moved to New York City, where he trained to be an actor and worked in many productions, including starting as Jimmy, in the Miracle Worker, off Broadway opposite Francis Sternhagen. He received his undergraduate degree from Auburn University, MA from University of Michigan, and PhD. from Florida State.
Throughout his tenure at St. Norbert, Kelly traveled throughout Europe with students, having them experience the art, architecture, and theater of the great cities. He also took students to London and New York for the theater seasons. In his later years he spent part of his summers in France and traveled throughout Europe with his family.
As a member of the Association for Theatre in Higher Education (ATHE),  Kelly gave presentations on his areas of research on historic community theaters and empathy in acting. He worked with local community theater groups directing productions, judged for high school theater and speaking competitions, and worked with his students to perform productions of social significance in grade schools. With his wife Melissa he traveled to Rwanda and volunteered with Global Grassroots, training local actors and theatre groups.
Kelly volunteered with many organizations, including: The Swan Foundatio, helping build homes for single parents going to college, the St. Norbert Young Artist Workshop, and the Green Bay Historical Society, where he oversaw the restoration of Hazelwood Historic Home. After his retirement he spent time tutoring with the Green Bay Literacy Foundation and subbing at Syble Hopp School.
Kelly is survived by his wife, Melissa, Prairie du Chien, and step daughter Erin (Keith) Cotter, Hortonville, and his three sons: Malcom (Marla) Collum, Virginia, Bryon (Kate) Collum, Missouri, and Kevin Collum (Kristen Beebe), Madison, WI, their mother Maggie Rawlings Green Bay, and six grandchildren. He was proceeded in death by his parents Lucy Butler and Dovard Collum, Alabama.
The family would like to thank the staff at Oak Ridge Gardens and St. Paul Elder Services for their kindness and dedication to Kelly's care and wellbeing. Donations can be made to the Michael J. Fox Foundation and the St. Norbert College Fund.
A celebration of a life well lived will take place on Sunday Jan. 24 at 5 pm via Zoom. Link: https://us02web.zoom.us/j/2533321749, Meeting ID: 253 332 1749
May Kelly's memory be a blessing!