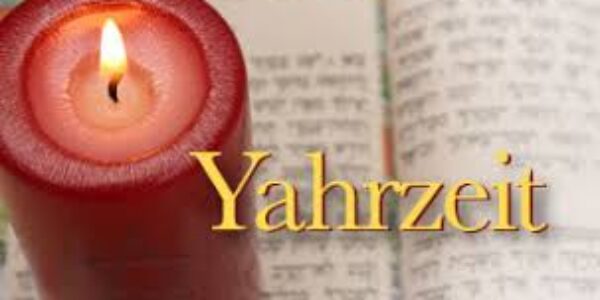 Yahrzeit candles are also known as Yizkor candles, because they are also lit on behalf of loved ones on the four Jewish holidays (Yom Kippur, Shemini Atzeret, Passover and Shavuot) that include a Yizkor, or Jewish memorial, service. These candles, often packaged inside glass jars, can be purchased at Judaica stores and online. Many supermarkets carry them as well.  Our synagogue has a supply.
It is customary the light the yahrzeit candle at sundown on the Hebrew anniversary (Jewish days begin at sundown, rather than midnight). To find out the Hebrew date of your loved one's death, use this Hebrew calendar converter to convert dates from the Gregorian calendar to the Hebrew one and vice versa.
Traditionally, mourners keep the candle lit for the entire 25 hours from sundown on the eve of the yahrzeit to sunset on the day of the yahrzeit and allow it to burn itself out. If you are concerned about potential fire hazards, use an electric yahrzeit candle. Yahrzeit candles also are lit each day that shiva, the first seven days of mourning, is observed.
In the synagogue, yahrzeit is observed by reciting the Mourner's Kaddish at services.  CSOA maintains a memorial wall of plaques bearing the names of deceased members or deceased loved ones of current members. These plaques are often sold as a way of raising money for the congregation, in addition to covering the manufacturing of the plaque. Each year the plaque is illuminated on the day or week of the deceased's yahrzeit.  Here at CSOA, we also have the tradition of reading a short biography of each loved one we are remembering.  Often, members tell stories that help us get to know the person a little better.  One Yom Kippur, all the memorial plaques are lit, and we read the names of all of our loved ones.
Our synagogue will send you annual reminders of upcoming Yahrzeit dates.  You are always welcome to request a Yahrzeit Minyan to honor your loved one. 
Sign up for a Journey Through Grief & Mourning: Whether you have lost a loved one recently or just want to learn the basics of Jewish mourning rituals, this 8-part email series will guide you through everything you need to know and help you feel supported and comforted at a difficult time.
(from myjewishlearning.com)