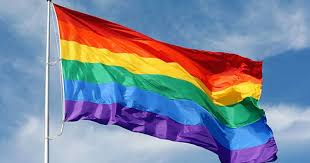 At CSOA, we intentionally work to create an environment where all Jews feel welcome and celebrated for who they are.
CSOA  is a safe space for the LGBTQ community, and we welcome you with love and open arms.
We embrace the entire spectrum of our Jewish community, and welcome interfaith families and members of any age, race, background, ethnicity, ability, marital or family status, sexual orientation, and gender identity or expression.
Keep reading to find out how we're working to make you feel at home. If you have additional needs or concerns, please reach out. Specific contact information is included below.
Visibility and Inclusion Efforts
CSOA wants to ensure our commitment to full LGBTQ+ inclusion.  This is reflected in our actions, programming, rituals, personnel and physical space.
Periodic training for clergy on LGBTQ+ inclusion

Specific LGBTQ+ programming, events and groups

Openly LGBTQ+ people are involved in the synagogue as leaders, members, students, parents

Inclusive language on all membership forms
Rituals and Life-cycle Events
We celebrate with all members as their life-cycle events and other milestones are shared with the congregation. Our clergy works with individuals and families to mark occasions in ways that are both personally and Jewishly meaningful.
Same-sex weddings or commitment ceremonies, performed inside or outside the synagogue

Aufrufs and aliyot for both members of a same-sex couple

Adoption and baby-naming ceremonies

Naming ceremonies for those undergoing gender transitions

Gender-neutral aliyot

Pride Shabbat – In honor of the LGBTQ community both inside and outside our synagogue, we will be celebrating Pride Shabbat each year.

If there is any way we can accommodate you and your family, please let us know.