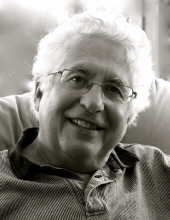 Irving Aaron Balto
August 21, 1948 – March 8, 2021
Irving Aaron Balto passed away on Monday, March 8, outside on his property in Vernon County—undoubtedly where he would have chosen to die, if he'd had a say in such things.
Born August 21, 1948 in Minneapolis, Minnesota, Irv married Barbara (Bobbie) Weinberg of St. Paul when the two were in their early twenties. They were together for more than thirty years until Bobbie's death in 2001. The two of them built their early lives around a shared vision of a more just world, taking active roles in protests on behalf of the planet, for racial and economic justice, and in opposition to war. In the 1970s, the two moved to a forty-acre valley in rural Chaseburg, pursuing a life with a smaller footprint and greater connection to the land. They adopted two sons, Sam in 1979 and Simon in 1983.
Irv was an avid lover of nature, and was of the general opinion that the valley he lived in for nearly half a century was probably as beautiful a place as any this planet had to offer. When invited to travel to see new places, he would usually return with the assessment that the beauty and quiet of his home was preferable to wherever he'd been. For nearly twenty years since their first date, he and his beloved partner Karen Sherman cared for that land, affectionately known as the "End of the Rainbow Valley," bringing their human families together while caring for the assorted goats, chickens, dogs, cats, plants, and wildlife that give the valley its character.
Irv was a relentless advocate for social justice and a tireless ally to all who needed support. He loved people and the planet, and loved big ideas that might help both. He spent his career as a social worker and psychotherapist, seeing the work as an extension of his larger desire to help people. He was a remarkable listener and a deep thinker—a man of big questions and genuine curiosity. Wonderfully smart and wryly funny, he exuded warmth for the people around him.
Irv was a stalwart in La Crosse's Jewish community—a member of Congregation Sons of Abraham for more than forty years. In recent years he was also a committed member of the interfaith Shoulder-to-Shoulder network, battling racism and Islamophobia in the La Crosse community, and had been doing a large amount of environmental activism at the local and state level, as well. In January of 2020, La Crosse's MLK Jr. Community Celebration Committee awarded him the Dr. Martin Luther King, Jr. Drum Major Legacy Award of the Coulee Region, in recognition of his lifelong dedication to pursuing a more just and equitable society. He leaves behind a world that benefitted greatly from his presence in it.
Irv was preceded in death by his mother (Eva) and father (Nathan), and by his wife Bobbie. He is mourned and celebrated by his partner Karen Sherman; his sons Sam (Jolene, and grandchildren Cameron, Haley, Kylie, and Abigail) and Simon (Leah); Karen's children Lori (Evan, and grandchild Hannah) and Steven (Karen);his siblings Robin (Yefet), Jack (Julie), Tammy (Naften), and Mark; many other family members; and by an enormous community of people, blessed with his unwavering care and abiding kindness.
In lieu of flowers, donations can be directed to Honor the Earth, supporting Native environmental activism; the Shoulder-to-Shoulder Network, battling Islamophobia; or to Congregation Sons of Abraham, where the funds will be directed toward tree-planting on synagogue grounds.