ב"ה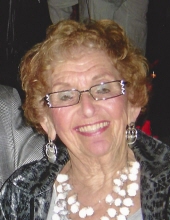 Norma Deborah Altman (Lebovitz) – Dvorah bat Leah v'Shmuel – passed away peacefully but reluctantly on December 25, 2020, at age 89.
What follows is Norma's obituary written by herself.
Norma was born in Oak Park, Illinois, a Chicago suburb, on March 16, 1931 to Samuel and Lily (Contorer) Lebovitz.
Norma lived in Chicago, with the exception of a few years, until her marriage, when she and her husband moved in 1965 to La Crosse, where they spent the rest of their lives together.
She is survived by her husband Burton; sons James (Ellen Von Holtum), and Robert (Devi Segal) all of Minneapolis; a granddaughter Erin Altman of Chicago; and several nieces and nephews. She was preceded in death by her parents Lilian and Sam Lebovitz; mother- and father-in-law Hilda (Plavin) and Jack Altman; sister Phyllis Klapman and brother-in-law Aaron (Nunny) Klapman; sister-in-law Eleanor (Tudy) and brother-in-law Harry Polisky; and brother-in-law Irwin (Buddy) and sister-in-law Dorothy Altman.
Norma graduated from Austin High School (Chicago) where she met her future husband as members of the same freshman homeroom, and learned to admire, respect, and love him for the rest of their lives (even though he used to copy her math homework).  She received her S.S. and M.S. degrees at Northwestern University and later attended post graduate courses at UW-L.
Norma taught school for 38 years, 24 of which were in La Crosse, mostly at Central High and Hamilton schools. She retired in 1990 to start a new career as a volunteer. She was a county volunteer guardian, a citizen advocate, a volunteer at the library, and the humane society, and a dedicated worker for Learning in Retirement and several other community organizations. She described her volunteer work as fun and something that kept her from nibbling on her beloved chocolates during the day and away from other sorts of mischief. She loved traveling which, including family trips and group trips planned by her husband, took her to six continents (she felt that if she lived a little longer she might have made it to all seven).
Although she always had a soft spot in her heart for Chicago, where she was raised, she learned to enjoy the life style and the many wonderful friends and good times she had in La Crosse.
Norma will be cremated, and a celebration of her life will take place on a yet to be determined date in 2021.
In lieu of flowers, memorials are preferred to the Burt and Norma Altman Teacher Education Fund at UW-L, La Crosse Humane Society, or a donation of personal choice.
Online condolences may be sent to the family at www.dickinsonfuneralhomes.com.
Zichronah Livracha – May Norma's memory be a blessing.           זכרונו לברכה