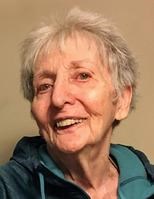 We offer our condolences to Heidi (Griminger) Blanke and her family on the death of her mother Charlotte Griminger and we extend our condolences to all of their family and friends.
Charlotte Griminger (Miller), 93, of Peoria died on Friday, June 11, 2021, at UnityPoint Health-Proctor, surrounded by family.
She was born on March 30, 1928, in Chicago, Illinois, to Sam and Rae (Schreiber) Miller.
Charlotte attended Austin High School and Roosevelt University, graduating with a teaching degree. She met and married Kurt Griminger in 1953, ultimately moving to his hometown of Peoria, where she resided the rest of her life. In 1996, she received a Master's degree in Social Work from Bradley University. For many years, she was a teacher and tutor.
She was a woman ahead of her time, with a love of the fine arts and a strong left political leaning. While never involved long-term with any one organization or activity, she volunteered as a Girl Scout leader, youth group play director and other child-centered activities. She loved dogs and couldn't resist petting any that passed by.
Charlotte was an ardent Cubs fan and wore her Cubs hat with pride. She cheered the team on from her armchair until the last months of her life.
She was preceded in death by her husband, to whom she was married for sixty years; her parents; her brothers, Sidney and Alvin; and many sisters-and-brothers-in-law.
Charlotte is survived by her children, Heidi (Scott Blanke), Lise and Joe (Amy Doberman); grandchildren Deah, Aaron, Hannah, Rachel, Seth, Emily, Jillian and Mollie; and great-grandchildren Eli, Kestrel, Anderson and Simone.
Graveside services were held on Monday, June 14, 2021, at Peoria Hebrew Cemetery, officiated by Rabbi Bryna Milkow.
In lieu of flowers, and in Charlotte's memory, donations can be made to the Jewish Federation of Peoria, www.jewishpeoria.org; or Cornstock Theatre, www.cornstocktheatre.com.
Condolences and memories may be shared through her memorial page at www.Davison-Fulton.com.
May the family find comfort from God, who comforts all mourners of Zion and Jerusalem, and may Charlotte's memory only be for a blessing.