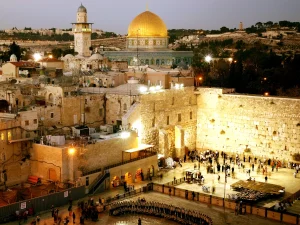 Our trip begins in Tel Aviv on May 7, winding our way north to the Galilee, finally ending in the holy city of Jerusalem May 12-17.
Israel Trip Information Sessions This Week!
We will have 2 information sessions, Monday, January 2 and Thursday, January 5. Attend either session at 7:00 PM. Ofra Cohen of Galilee Travel will be with us to discuss costs, itinerary, travel planning and answer any of your questions. Click Here for the Zoom Link
Welcome to the La Crosse Israel Tour!  We have planned an amazing visit to the Holy Land.  This unique journey will bring the Coulee Region community to Israel in celebration of a monumental 75 years of Israeli independence.  All faith communities of the Coulee Region can enjoy this amazing experience together, in the place which three faiths call our spiritual and historical Home.
These pages will fully inform you about the trip.
Israel Tour Itinerary & Luxury Hotels